This site built & maintained by
Comments?
© Copyright 2017
Vision Exploration / MGS
All rights reserved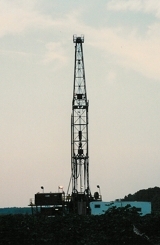 MGS Committee Chairmen

Environmental Section

John Ryan

Allen Engineering

and Science

601-936-4440

Historian

Stanley King

Independent

601-842-3539

Honorary Membership

Charlie Williams

Vaughey & Vaughey

601--982-1212

Legislative

Rick Ericksen

Board of Registered Professional Geologists

601-354-6370

Water Resources

Bill Oakley,

Mike Mallory

Land & Water

BO: 898-0455

MM: 956-9359

Website

Steve Walkinshaw

Vision Exploration

601-607-3227

Boland Scholarship - President

David Snodgrass
MDEQ

601-576-4930

Boland Scholarship - Secretary

Neil Barnes

Strong Rock

NA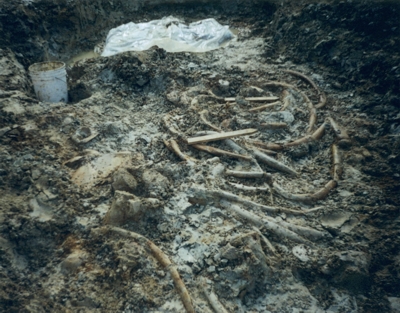 Remains of a relatively complete giant archaeocete whale, Basilosaurus cetoides, from the late Eocene Upper Yazoo Clay Formation from Scott County, Mississippi. Picture shows the skull (under plastic in background, with adjacent 5-gallon bucket for scale) and the upper torso (in foreground). Quick burial and limited evidence of scavenging left the remains largely intact where the animal came to rest in the soft sediment of the ancient Jackson Sea floor. The specimen is more than 60 feet long. Remains have been curated and housed at the Mississippi Museum of Natural Science in Jackson. The excavation was documented by Mississippi Outdoors and was broadcast on public television on October 30, 2003. (Source: James Starnes)

Help Your Society
We know everyone's busy... but we need your help. The Society is an integral part of the geological community, encouraging our students to learn more about the earth sciences and stewardship of natural resources through the issuance of its scholarship grants and its educational assistance, and represents its diverse membership on many important matters including environmental regulations, water quality, and oil & gas exploration & development within Mississippi and the surrounding Gulf Coast area.
However, as with most Societies, it is important that we don't wind up with the same small group of people doing all of the work. That's where you come in. Please volunteer to serve on one of our many committees, or to become a Society-sponsored AAPG representative.
Thanks in advance!

" Indian Paint Pots " -
concretions filled with bright red hematite pigment, from the Tuscaloosa outcrop in Monroe County, Mississippi.

Cross-bedded ooids seen in a diamond core taken from an oomoldic Smackover reservoir, western Washington County, Alabama. (See Home Page)